NATIONAL SPECIALTY BEST IN SHOW WINNERS
THE 2012 NATIONAL SPECIALTY
BIS, BISS, GChB PYRLESS NO-BRAINER, HOF,HOF
"RALEIGH"
Ch. Cherlyn's Royal Dash O Glory x Ch. Pyrless Call Me Darling
The 2012 GPCA National Specialty, hosted by the Garden State Great Pyrenees Club, was held in Matamoras, PA, April 25-28. The height of any National Specialty is the Best of Breed competition. On Saturday April 28th, all of the champions, veteran class winners, and winners dog and bitch assemble in the ring at one time. A truly amazing sight to see so many Pyrs together! Then judging begins by dividing the dogs by sex, and then into smaller groups. Cuts are made, and at the very end judge Ellen VandenAvond, a breeder, owner and handler of Great Pyrenees pointed to Raleigh - GChB PYRLESS NO-BRAINER, HOF,HOF! Raleigh's win was the culmination of our 35 years in Great Pyrenees. No higher accolade than Best-in-Show at a National Specialty, can be bestowed on a dog, his breeder, and his owners. In addition this was the fourth National Specialty win for his handler Sue Capone.
THE 2017 NATIONAL SPECIALTY
MBIS, MRBIS, MBISS, GChG. BRYNJULF WAHOO CREEK DON'T YOU FEEL IT, HOF
"MARCO"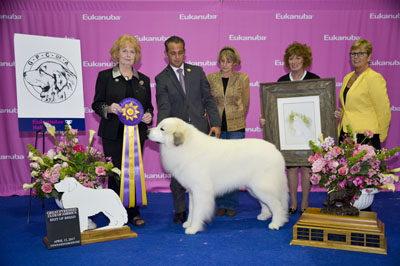 GCh. Pyramor Pyrless Frequent Flyer x GChS. Brynjulf Don't Dare Me
The 2017 GPCA National Specialty hosted by the Great Pyrenees Club of Greater Chicago was held from April 12-17 in Wilmington, Ohio. The National events began with the Top Twenty competition in which the Top 20 dogs of 2016 in Breed and All Breed are invited. Competing were GChS Pyrless & Ashby She's All That who was the #1 bitch All Breed and Breed, and a No-Brainer grandson GCh Brynulf Wahoo Creek Don't You Feel It, bred by Cindy Pearce.The judges for the Top Twenty were All Breed judge Jay Richardson, handler Andrea Glassford, and Pyrenees breeder Barb Dillon. Each judge scores each dog on several characteristics. The scores are totaled and the winner announced: GCh BRYNJULF WAHOO CREEK DON'T YOU FEEL IT owned by Kimberly Fancher of Georgia.The National Specialty culminated with Best of Breed judging on Saturday April 16th. Judy Cooper of the Tip 'N Chip Kennels that began in 1948, and the breeder of our foundation bitch Cloud, judged the National Specialty, and at the end pointed to Marco – GCh BRYNJULF WAHOO CREEK DON'T YOU FEEL IT, HOF. A second win for Marco! Sunday was the Regional Specialty judged by Jon Cole, and once again the ribbon went to MARCO – the first Triple Crown winner at a GPCA National Specialty, and the product of the first Great Pyrenees litter bred by Cindy Pearce. Marco finished the 2017 show year a multiple Group Winner, #2 in Breed, and #7 All-Breed. He began 2018 winning Best of Breed at the Westminster Kennel Club Show and finished the year #2 All-Breed and #3 in Breed. Marco finished 2019 #3 All-Breed and Top 10 in Breed and began 2020 again winning Best of Breed at Westminster, before all dog shows were canceled due to COVID-19.
.
ALL BREED BEST IN SHOW WINNERS
BIS, BISS Am/Can Ch. PYRLESS PRIME TIME, HOF, HOF
"GIMLET"
Ch. Rivergroves Rolling Thunder, HOF x Ch. Pyrless VeraBelle du Mont, HOF
GIMLET began his show career in 1991, and was a multiple group placer before his championship. By 20 months of age, he was a multiple group winner and had won his first of 6 Best-in-Shows. At the time he retired, he had over 200 group placements and was the #1 Great Pyrenees in 1994 and 1995. In 1999 he came out of retirement for a Specialty weekend, and won his last Best-in-Show as a Veteran. His total show career earned him the #2 place in breed points and the #5 in all-breed points in the history of the breed. To date he has sired 41 American and 2 Canadian champions. Gimlet was owned by Karen Justin and was her first Great Pyrenees.
MBIS, MBISS GChP. PYRLESS & ASHBY SHE'S ALL THAT, HOF
"STELLA"
GChB Pyrless No-Brainer, HOF,HOF x GChB Pyrless Razzle Dazzle
STELLA easily finished her championship in 7 shows, 4 days after her first birthday. Her first win was WB at the 2014 GSGPC Regional Specialty and first Group Placement came at the age of 16 months. Stella returned to the 2015 Regional Specialty and this time was Best of Breed. She finished 2015 #7 in Breed, #2 bitch, and #13 All Breed in limited showing. 2016 began at Westminster where she won Select Bitch, and BOS at the PFNE Regional Specialty, and then an Award of Merit at the 2016 National Specialty. She ended 2016 #1 bitch in Breed and All Breed, #2 All-Breed and #4 in Breed, had achieved Hall of Fame status, and won three Best in Shows, and a Reserve Best in Show. Only 5 other bitches in the history of the breed have won more than 1 BIS! She finished the 2017 show year #2 All-Breed and #4 in Breed and an Award of Merit Winner at the 2017 National Specialty. Before retiring from the ring to have her first litter, she won 4 Best-in-Shows, 1 Reserve BIS, and 24 group 1's. She returned to the ring late in 2018, and finished Top 10 in Breed and All Breed. The year 2019 saw Stella finishing as #1 bitch All Breed, #5 overall; #2 bitch in Breed, and #4 overall. In 2023, Stella ended her show career at the 2023 GPCA National Specialty. There were 4 Independent Specialties associated with the National. She was BOS Veteran in the 3 Regionals she was exhibited in and Best Veteran and BOS in one of them. At the National Specialty she was BOS in Veteran Sweeps, Best Veteran, and received an Award of Merit. She is from the first litter bred by Sue Blevens of Mystic, Ct.